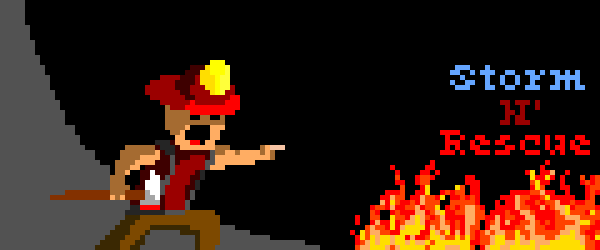 Storm N' Rescue
Version 0.7 final goodbye
---
Here's what's been fixed/added since the last update:
Removed jumping. (It's never used, so why have it? #uselessfeature)
Fixed some floors being absolutely empty, now there is always SOMETHING going on on one of the floors.
Fixed civilians bouncing off right side windows.
Fixed civilians not recognizing the players velocity when you throw them.
Fixed no civilians at start.
Added more fire sprites.
Added more clouds, and updated the old ones.
Changed Game over screen to be more in line with the imagination of the original vision.
Added "Hold to quit feature"(windows download only) where you can hold the escape button and it will force shut down the program.
This is about it as for what I planned to do for this game. I might go back through and polish a few more things, maybe add in a bit more art. But all in all I'd say this game is good as is. I do now have plans for the sequel, and ideas for where to take it. It will be building off of the existing game as I mentioned, mostly adding features here and there to shake up the monotony. I've decided it's going to be a continuation of Firefighter Joe's story. I can't say how much of a continuation, but a continuation non-the-less.
So as far as Storm N' Rescue goes, this game is done with. But the story isn't done yet. If there are any more updates, they will be minor, and won't change anything to do with the game play.
Finally I just wanted to give a final thank you to all those who worked on this project with me.
I (Forrest Lowe) was the lead programmer, and pixel artist.
The sound effects and music were composed by the ever so talented Nils Kwiatowski.
And the idea for the game, and most of the concept was derived by Cj Karinen.
I couldn't have made this game with out my team, thank you guys for being there.
Files
WebBuild.zip
Play in browser
75 days ago