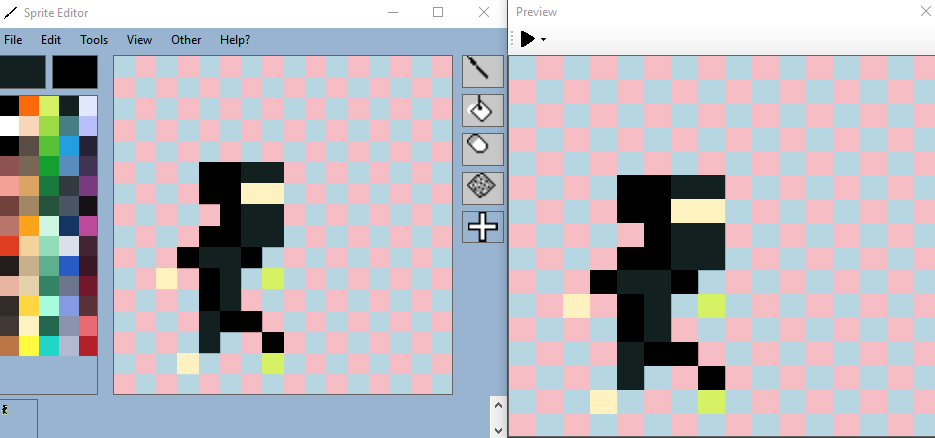 The Better Sprite Editor
A downloadable tool for Windows
This editor has been made because the creators of Aseprite refused to add an "undocked" preview window to their editor. The goal of this is to have the features a pixel artist needs, and only those features. Things like an undocked preview window should be default, so now that is default in this app... You're welcome. Most features are in the project already... However a large number are still to be added, but are planned.
Due to the nature of the origin of this project, there is a dedicated feature request button under the other tab.
Why should you use this editor? Well in short: Because it's developer friendly.
To drag it on however... You want to use this product because it's made by a game developer. It's designed with game development in mind. It's not made to do any particular fancy thing, it's designed to do exactly what I as a developer would need it to do... Make sprites. If I have a long day of making sprites ahead of me I'm not about to pay for photoshop so I can spend a day learning it. And I'm not about to buy aseprite and pyxeledit so I can spend all day going between them.. I have a "paint" philosophy. With Microsoft Paint you just launch it, and know exactly how to do everything immediately, because it's right in front of you. This software will start up in small sprite mode by default, because that's what I need a sprite editor for. There's a dedicated feature request button so you can ask for the things you need in a sprite editor. I won't ask why you need it, I'll just ask how you want it to work. And that, at it's core that is why you want to use the better sprite editor. Because it's made with you in mind. You the developer.
Check out my website for a full feature list.
Donating to this project would be greatly appreciated! It will help to fund a better sprite editor than what is currently available for the cheap.
Here's a list of planned features:
* Hold shift and click on a color to bring up color wheel
* Zoom
* Insert text
* Circle tool
* Line tool
* Square tool
* Thicker/thinner brushes
* Custom hot keys.
* Onion Skinning
* Layers
* Transparency- Gradient Tool
* Onion Skinning
* Layers
* Transparency

Download
Click download now to get access to the following files: